Ready to organize your brand and take your business from side hustle to full time?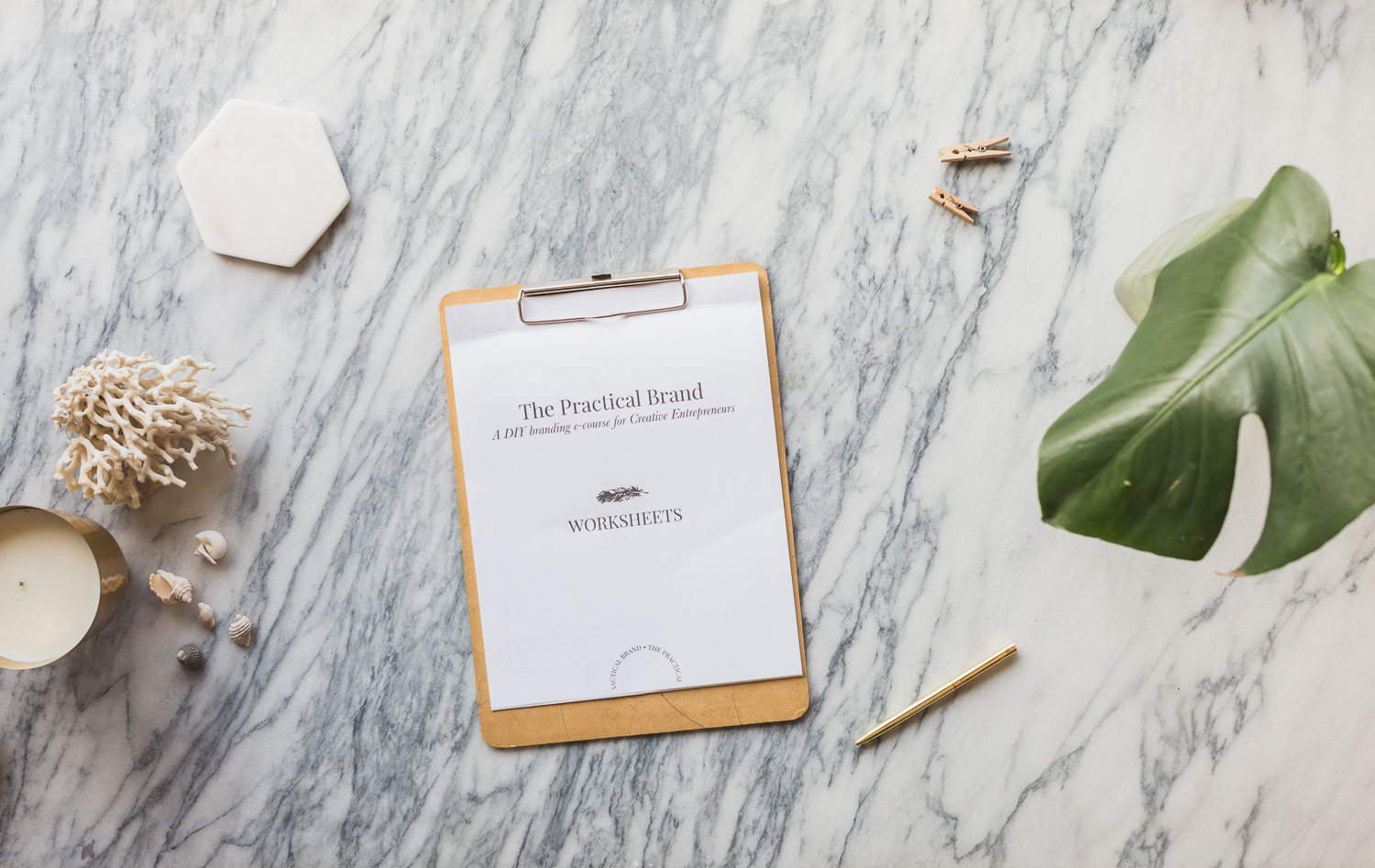 The Practical Brand course covers everything you need to get started with brand positioning for your business. It includes PDF lessons and worksheets to help you establish your brand.
Here's a breakdown of everything that's covered in the course:
Your Brand Feeling, which covers:
+ Core Values (includes Worksheet)
+ Unique Offer (includes Worksheet)
+ Dream Customers (includes Worksheet)
+ Position Statement (includes Worksheet)

Your Brand Vibe, which covers:
+ Colors (includes Worksheet)
+ Fonts (includes Worksheet)
+ Imagery
+ Logo
You'll leave the course with a clear brand identity. You'll be able to articulate your brand's core values, describe your ideal client, define how you're positioned in the market, and outline the imagery and visuals that will be the cornerstone of your new branding. You'll also get next steps so you know how to move forward and use your new branding to the fullest.
The course is designed to be simple and easy to use. We all have busy lives and sometimes you have is 30 minutes to spend on growing your business. The lessons and worksheets are quick and to the point making them each easy to complete in under 30 mins.
Take your side hustle from 'hobby' to full time job.
Hey, I'm Hayley!
I've spent years helping creative entrepreneurs like you launch brands and websites with this step-by-step process. My hope is that you use this e-course as a stepping stone to launching your own business and living a full life as a creative entrepreneur.
Who is this course for?
The Practical Brand is for creative entrepreneurs looking to grow their side hustle into an established brand. Here are some of the scenarios that might apply to you:
+ You want your side hustle to be taken seriuosly and not thought of as a "hobby"
+ Your business is new and you don't have the money to invest in 1:1 branding services
+ You are able to create you own logo but you need the foundation that comes with a solid brand strategy.
+ Your brand is lackluster and not growing
+ You feel like you are attracting all the wrong types of clients
+ Your brand feels scattered and unorganized
Ready to step up your branding game? Let's do this.